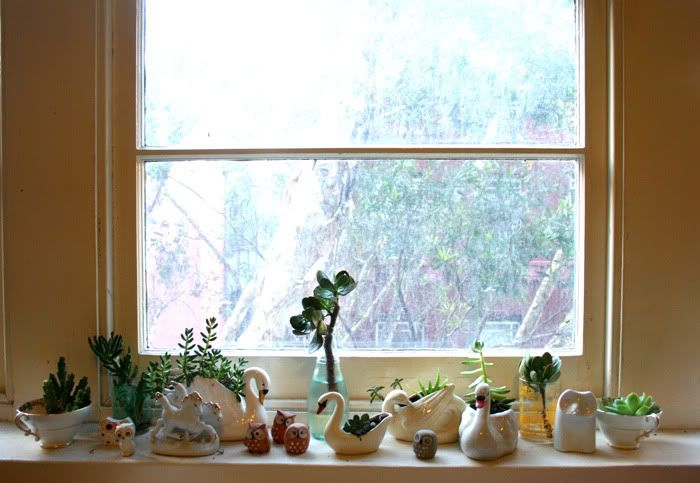 I am not a green thumb. I possess the remarkable "gift" of being able to kill a plant simply by looking at it. Numerous attempts at any sort of gardening on my part have always ended in disaster, until now. In attempt to junglify (just made up this word) my little apartment I have been gradually collecting small succulents and an array of interesting planters to put them in. After being told that succulents are easy to care for, require minimal watering, and are hardy and long-lasting I figured they would be the perfect option for a novice gardener such as myself. And it's true, all they need to thrive is good quality potting mix and a sprinkling of water here and there. They even grow soil-free in vials of water. Super plants?!
To my delight, I have developed a true love of this fascinating plant species and my collection has grown into something quite special. I have two succulent collections on-the-go at the moment, some planted in swan-shaped pots and some in desert-themed ceramic mugs and dishes. I have even branched out into other types of indoor plants like ferns and prayer plants, all of which are still alive and totally not dead!
I would love to try hanging vines and terrariums next and have been poring over one of my favourite garden blogs,
Terri Planty
for inspiration. Here are few glimpses at my indoor jungle.