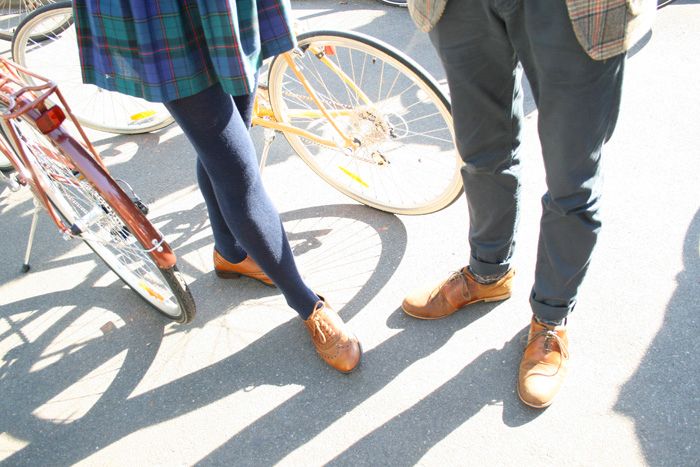 This weekend was SO GOOD! Equal parts of frantic work and fun play. On Friday I spent all day with Maria setting up Prom, which was amazing as I mentioned. On Saturday Steve and I cruised around on bikes then went on a spontaneous beach-side road trip, where we ate fish and chips and a kookaburra swooped down and brazenly stole a chip RIGHT from Steve's hand! I was TERRIFIED of this, as I am with most things that resemble anything to with Alfred Hitchcock's The Birds...
Today I cruised through this incredible city in the sunshine on the Sydney Tweed Ride (winter was nowhere to be seen - goodbye you jerk!), then went to a tea parlour for high tea. I made my little caplet from a pair of thrifted Tweed pants I managed to find at the last minute. I hand sewed it whilst watching The Karate Kid, as my machine was in the studio. For a slap dash garment it held up quite well!
I topped off my weekend with take-out roast dinners at Matt's House where we watched an old Technicolour film about a giant octopus monster and some Greek fisherman. Great quiff-haired sailor/stripey shirt/white chino combos.
On a rather sappy note, this weekend reminded me yet again how much I absolutely love Sydney! And my wonderful friends. You are all so amazing and fun and I always have the best most hilarious times when I'm with you. Aw. x