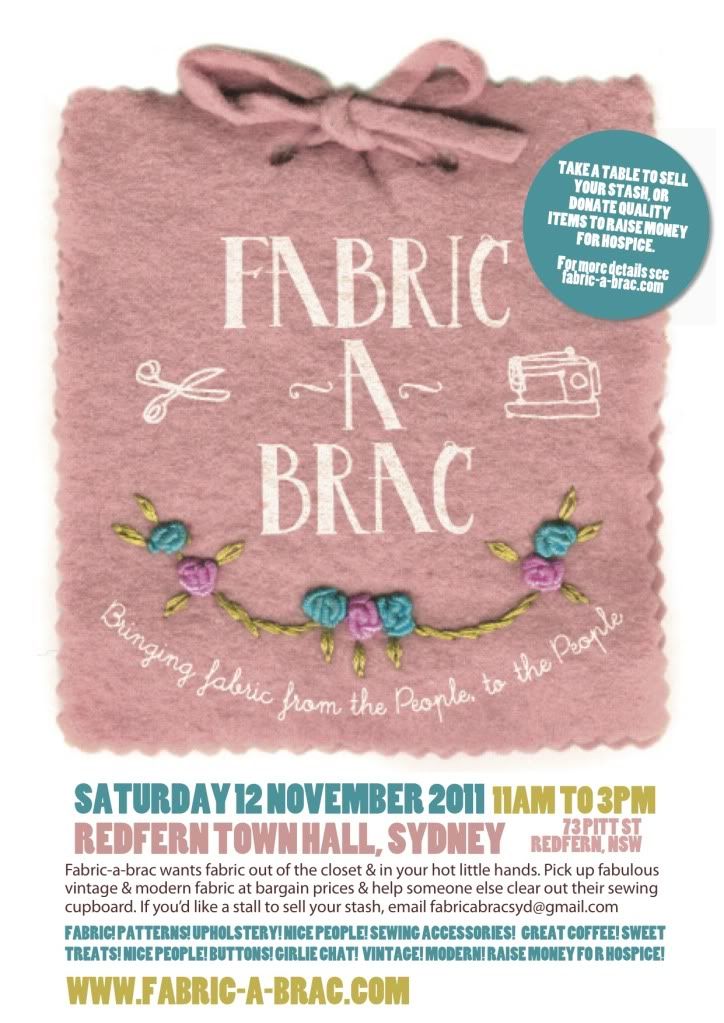 This little interview is originally from my
work blog
, but I thought I'd share it here too!
Fabric-a-brac
is a truly novel idea that combines all my favourite things: fabric and haberdashery, flea markets and garage sales, the thrill of an op-shopping adventure, and true blue craft bargains.
The market-style event is the creation of New Zealander Josie Brennan, who started it to raise funds for a hospice in her home town of Wellington. The premise is simple, giving craft enthusiasts with an excess of fabric and haberdashery the opportunity to sell off their unwanted wares. Since it's beginnings, the event has grown in scale and hopped over to Brisbane and Sydney. My dear friend Kaila Perusco is the leading lady for the Sydney event.
Me: Tell me about Fabric-a-brac and how the concept came about
KP:
Fabric-a-brac is a fabric sale that brings fabric out of dusty closets and into the hands of fabric lovers. It's a fundraiser for Hospice, and a great way of bringing the crafty community together. There's something about getting a whole lot of people with a common interest into one room that gives the event a really good vibe. Everyone is happy and in their element searching through beautiful fabric and imagining dresss, bags, soft toys, upholstered chairs, etc.
It's an idea that plugs neatly into the financial issues a lot of people are facing at the moment too. People want to sell up unused items to make some cash, while others are looking for bargains to make things.
Me: What's the most amazing thrifted craft item you've ever found?
KP:
I found a great 50s illustrated book called The Leisure Book for Girls in an op shop once. I used some thrifted fabric and craft paper to turn it into a journal. I gave it to my friend for her birthday, but it was really hard to part with! I'm still on the hunt for another book to make myself one.
Me: Any tips for clearing out your craft closet?
KP:
I believe in being brutal when cleaning out your craft closet. If you have stuff that you haven't used for 6 months or more, and can't think of how you'd use it, get rid of it! Have a supply swap with a friend, or sell it for cash to buy something new. Only keep the things that inspire you.
Me: Tell me about the Sydney event. What can craft enthusiasts expect on the day? And how can we get involved if we'd like to participate and sell our craft supplies?
KP:
Fabric-a-brac Sydney will be held on
Saturday 12 November from11am to 3pm in Redfern Town Hall (73 Pitt Street, Redfern).
Those wanting to sell their stash can hire a whole trestle table for $30 or half a table for $15. (Contact
fabricabracsyd@gmail.com
to organise a stall.)
We'll have coffee, tea and sweet treats on the day. Market-goers can expect plenty of unique buttons, trim, patterns and vintage fabric including 60s and 70s floral and one-of-a-kind prints. Bring some friends and make a day of it!