For some reason, the thought of making jam or preserves is very daunting to me. It seems hard?! I haven't had many successful jar-based cooking adventures before, but last weekend I tried making pickles, and they turned out pretty YUM!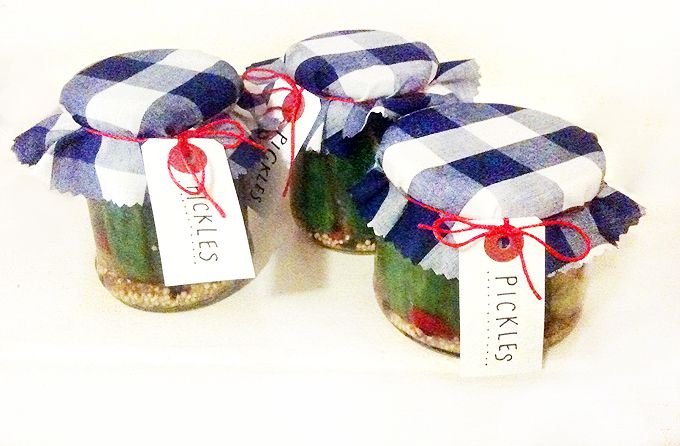 I found
this recipe
from
The Kitchn,
which taught me that there are two kinds of pickles - the kind that keep for ages in your cupboard and 'refrigerator pickles', which have a shorter lifespan but are way easier to make. I adapted the recipe I found and my first ever batch of pickles was born. I now want to make MORE and MORE pickles and experiment with them, like my friend Colin did to a recent batch where he added tequila. (I tried them and they were A FLAVOUR SENSATION). Here's my abridged recipe if you fancy trying it. More pickleventures to follow!
FIRST EVER PICKLES
Makes 3 small jars and one tall jar worth of pickles (not that helpful!)
5 large lebanese cucumbers
1 1/2 cups apple cider vinegar
1 1/2 cups water
2 tablespoons sea salt
8 garlic cloves, peeled and smashed
1 fresh red chilli, chopped into small bits
1 teaspoon mustard seeds per jar
1/2 teaspoon black peppercorns per jar
1. Wash your jars and lids with very hot water and allow to air dry.
2. Wash cucumbers, then slice them to fit the size of your jars.
3. Combine vinegar, water, and salt in a pot and bring to just simmering.
4. Spoon mustard seeds and peppercorns into each jar, then divide the garlic cloves and fresh chilli bits amongst each jar. Pack each jar tightly with cucumber slices, being careful not to damage each piece. Make sure each slice doesn't sit higher than the inside rim of the jar.
5. Pour the brine into the jar, making sure the cucumbers are fully covered.
6. Tap the jars gently on a bench to pop any air bubbles (this took a bit of time).
7. Screw the lids on tight and let the pickle mix cool. When at room temparature, stick them in the fridge! Wait at least 2 days for them to pickle up good before eating.
8. EAT AND ENJOY!
Image: Me // Original recipe: TheKitchn